Australian Address Verification
Address Verification services by Addressfinder provides you with access to powerful address collection, cleansing tools and APIs, backed by Australian most comprehensive postal and physical address datasets.
Try the demo
Features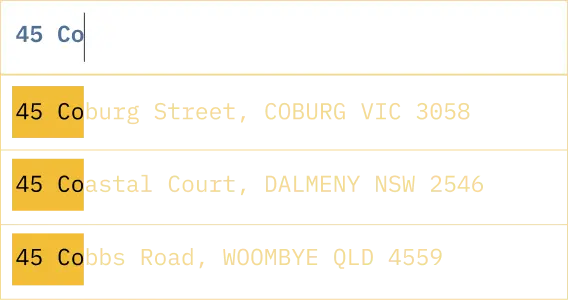 Address Autocomplete
Add predictive address autocomplete to your form or checkout
Reduce cart and form abandonment
Reduce misdeliveries from bad address data
Save your customers typing time during checkout
Learn about address autocomplete
Bad addresses are costing you time and money
Regardless of why you receive bad addresses, the negative impact these may have on your business is significant.
Wasted staff time, additional shipping cost, slow or failed delivery of goods, poor customer engagement.
Guiding your customer to choose a verified address at the time of address entry
Addressfinder's autocomplete service can prevent all of this by guiding your customer to submit a verified address at the time of address entry. This results in more money in your pocket and time back into your day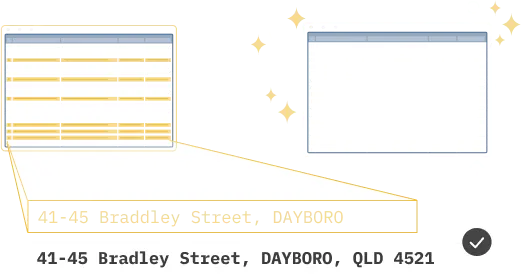 Bulk address cleansing
Bulk verify your entire address database. Get accurate, formatted addresses and associated metadata
Decrease storage usage by removing duplicates
Standardise your data structure for easy comparison
Get address metadata like DPID and meshblock
Learn about bulk address cleansing
Standardise your existing address database
If your organisation has been collecting and using address data for a while, chances are you have a database with varying levels of data quality. Merging this data with other databases or new verified addresses can be grueling as existing records need to be standardised.
We have made address standardisation a breeze
With our bulk cleansing service, you can clean, verify and format your entire database in just a few clicks. Set your business up for success with this powerful time and cost saving.
How much could you save?
Free 2 weeks verification trial • 2 minutes setup • Local support • Flexible plans
Get Started
Why businesses choose Addressfinder
Only valid addresses
We are able to rely on receiving accurate and reliable address data.
Peter Taylor - Senior Originations Web Developer
Addressfinder only ever verifies against from offical NZ Post and Linz databases. All addresses are real and mistake free.
Get address metadata
Extensive address information, including unit addresses.
Aarron Natale - CTO
Use metadata like DPID and meshblock to get insights about your users.
Standardize your database
With Addressfinder, we are gaining gold standard address information.
Simon Morton - Director
Get a clean and consistent address database. Remove duplicates and reduce your data storage needs.
Data points we cover
Get the data points that matter. The Addressfinder metadata API returns a large amount of metadata to ensure your address database is comprehensive and contains everything you need to run your business.
AMAS verified postal address
DPID (delivery point ID)
Address line 1
Address line 2
Suburb / Locality
State / Territory
Postcode
Box type
Box identifier
Longitude
Latitude
Full Address
Unit type and identifier
Level type and number
Street number
Street name
Street type
Site name
Local Government Area
Meshblock
SA1
SA2