Australian Bulk Address Cleansing
Reliably smart. Reliably accurate.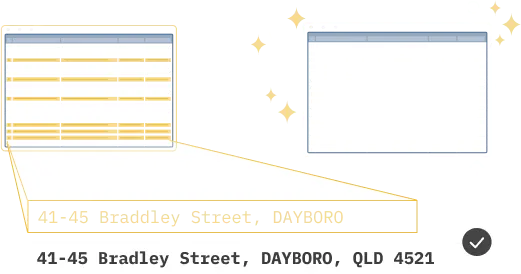 Address Cleansing
Bulk Address verification
Address Cleansing, or bulk address validation, is the process in which "dirty" addresses are run through a powerful, highly tuned algorithm in order to match and return a verified, formatted address (and metadata). Each verified address and metadata is appended to your CSV file ready for downloading.
The process can be run easily and quickly through the AddressFinder portal. See the step by step guide.
Why choose bulk address cleansing?
Only valid addresses
We are able to rely on receiving accurate and reliable address data.
Peter Taylor - Senior Originations Web Developer
Addressfinder only ever verifies against from offical NZ Post and Linz databases. All addresses are real and mistake free.
Get address metadata
Extensive address information, including unit addresses.
Aarron Natale - CTO
Use metadata like DPID and meshblock to get insights about your users.
Standardize your database
With Addressfinder, we are gaining gold standard address information.
Simon Morton - Director
Get a clean and consistent address database. Remove duplicates and reduce your data storage needs.
What others say about Addressfinder
Read address cleansing success stories from businesses like yours.
Start verifying addresses now.
Free 2 weeks verification trial • 2 minutes setup • Local support • Flexible plans
Get Started